There're a few August babies this month.
After ZH's b'dae, followed by Karen & Fify's birthday celebration.
It's Karen birthday. We've called Seafood Paradise to reserve seats for dinner.
Ordered crabs and other foods.
They went in to take a seats first.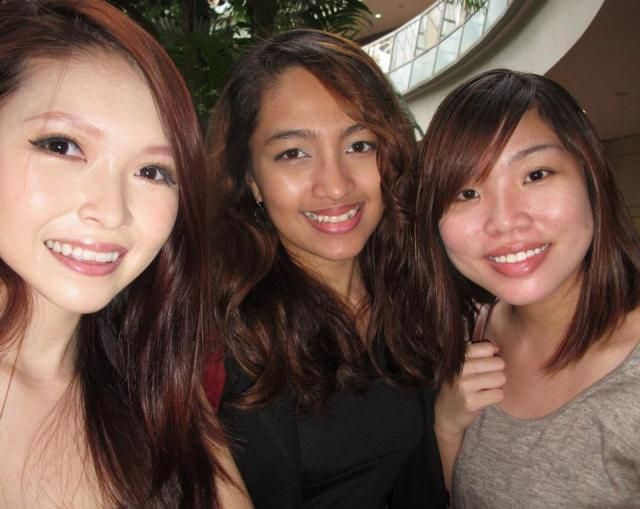 After dinner, celebration starts. We bought from Grin Affair, near Outram Park.
Group Photos of us. All I could say is, this is the best photo captured compared to others.
Present giving time. We wanted to capture her expression of receiving the present but failed, being covered by hand.
Present: Dr Martin shoe.
Finally, polariod of us.
Followed by Fify's celebration at PS. Cafe @ Dempsey Hill. Seats were also reserved before that day.
While we waiting for food to be served..
Yvonne missing. She was sick that day, unable to join us.
A failed birthday surprised.
This cake was meant to be a surprise for her, but the waitress lighted up the candle in front of of the counter, where it facing the birthday girl. Because our seats were directly in front of the counter, where the foods were all be served out.
And she trying very hard to avoid it, but it's hard. HAHA
The cake.
After a long trick, she finally got her birthday present.
It was the joke of the day of that trick.
Awaiting of her opened the present...
YES! She saw what was the present, saw her expression.
.
.
.
.
.
.
The Kindle Touch that she wanted for long. Now, it's convenient for her, bag lighten and many books can stored in the kindle and read throughout her journey (:
Dessert time..
I had forgotten the name of dessert.
Overall, I will head back for their dessert but not their main courses. It's too costly. If you are a fan of cream sauce, you can try Flamed Prawn Tortiglioni. Nice. But I prefer Chicken Parmigiano, as I am fan of tomato sauce instead (: