And I know it's belated post but I still choose to post. LOL!
Booked 3D2N Coastal Sand Resort to celebrate my birthday. It was meant to be a surprise for me, but due to certain reason. I knew it before hand, but I'm still surprised.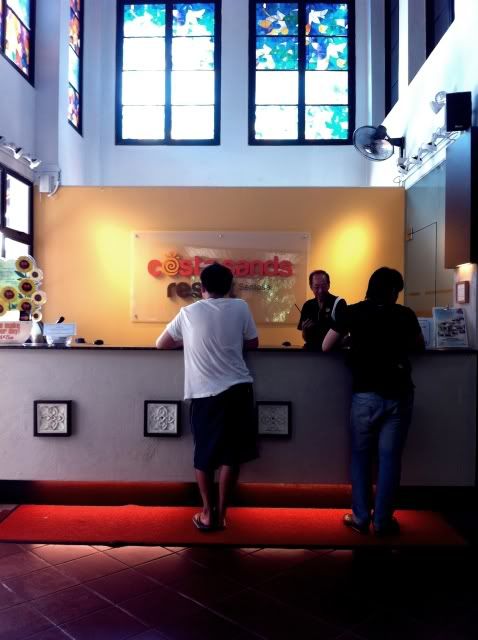 I never expect their reception counter to be this. Thought will be more class compare to other b'cos it located at Sentosa. Nvm.
The room was looked different from what we seen online too.
We was like "Ehh! We feel cheated."
Anyway, what we alway do the first when we reach hotel room was to switch on TV (:
Start watching Tom & Jerry after some random channels #childhoodshows
Headed to Vivocity for movie with his friend after that. Forgotten what movie we watched. Only thing I remembered was I thought the movie was going to end soon as I need to go Rest Room urgently, but I dont wish to miss out the exciting part of the show :(
And he surprised me with a cake :D
Went back to room to rest while his friend went back. And know what, it showing Tom & Jerry show when we were back to room. LIKE!!
On our way to Underwater World (:
No one along the road..
Map for reference.
I am waiting for peacock to be proud that day, opened out it's feather. But never, DISAPPOINTMENT!
Queue-ing to buy ticket.
Sad thing was I can kept this photos as memories NOT tickets. We finished seeing the underwater world creatures and waiting for Dolphin Lagoon showtime to start. We started to walk round and round the places, and we did an exit unknowingly. Luckily the girl was good to let us in again after explained per ticket per entry, but she collected our tickets.
Whenever I saw this picture, I want to laugh! HAHAHAHA..
Small little boy feeding small little fishes..HAHA!
Caught him yawning***???
HagFish.
Mimic Octopus
Coconut Crab
Rainbow Crab
Thunder Crab
Decorator Crab
Nurse Shark
His smoking break..
The tortise..
The show finally starting soon. We have to find a good view seat being an aunty spirit. HAHA!
But perhaps, I'm wrong. You will know from following pictures.
See the amount of people! I thought there would be no people due to weekday.
But.... I'M WRONG!
Played game before show started..
Show started..
Find this cute! She's/He's tired and need some massage..
Volunteer was up to massage for him/her.
No reaction!
She's/He's was up after another massage :D
Manage to capture this scene.. CUTE!
They waving hand to us, saying BYEE!!
After show, we walked to Bora Bora Margarita Bar for dinner.
While we were on our way there, NICE VIEW!
独照 (:
The food..
Slept early that day! Needed to wake up early to pack & check-out..
But I enjoyed those days (: